A few months ago, after we had been in lockdown for several weeks, my 9 year old daughter came up to me: "Mom, I want to start a dog walking business." I smiled, and in true fashion to my character, I said: "Ok, we're going to need a plan. First, you want to talk to other business owners – business owners will help you through the initial stages of starting and running a business. Take it from me: the best way to find out how to do something is to ask someone who has been there before." And so she did. She set up a Zoom meeting with her Grandpa who runs a successful business in Wisconsin. She wrote down a list of questions and she listened to his expert advice. She put his advice into practice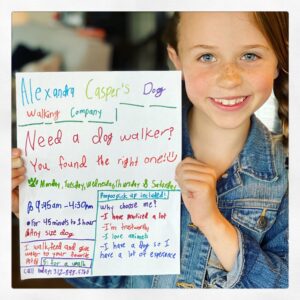 I've been thinking for several months how to navigate this new world. This strange and unpredictable world that we've all unexpectedly fallen into. I've especially been thinking about how to lead in a time of such uncertainty. I think the way to do it best is to lean into one another – to hold each other up and show support, kindness and empathy. Many of our fellow business owners are facing challenges that they have never faced in the life of their businesses. Studies have shown that the pandemic affects women business owners more than our male counterparts. We've also seen firsthand how the responsibilities women shoulder (children, aging parents, families) often disproportionately affect us more than men, and we need more support because of it.
As I prepare to lead NAWBO Columbus as your President, I'd like to tell you about a few exciting changes we've implemented in the past several months. I am hopeful these changes will directly benefit your businesses and that you will feel a sense of support and friendship.
Our new Development Director: We recently hired Yvonne Cherell as NAWBO's first Development Director. Yvonne is a respected advocate of social justice and equity in Columbus and she's served in the non-profit sector for more than 25 years. She is the President and Founder of Freeman Focus Management, Inc., a contractual group specializing in advocacy, project management and leadership training. She brings a diverse experience to our organization and we are thrilled to welcome her onboard.
Our new Board Members: We welcome Deonna Barnett, Pia Fitzgerald, Stacie Hoover, and Theresa Harris as our newest Board members. They bring a rich tapestry of experiences and backgrounds to our diverse Board of Directors.
Time: One of the greatest gifts I think another person can give is their time. It is important to me that I create space to hear from our members and corporate partners, especially during a time when we cannot gather in person. On the first Friday of every month, from noon – 1 pm, I will host the President's Office Hours. Bring your lunch and hop onto Zoom to share ideas, struggles, challenges and advice for your NAWBO Board. We are here to listen and to improve.
We have more exciting changes and updates to tell you about, and I hope you will join us for our virtual Annual Meeting this Thursday, August 13th, beginning at 11:30 a.m. Lt. Gov. Jon Husted will join us as our keynote address and you will have an opportunity to meet our newest Board Members and hear about our 100-Day Vision as we kick off this new NAWBO year.
One of the greatest strengths of NAWBO-Columbus has been our ability to connect business owners with other business owners and to share in the expertise that can only be found through experience. Seven years ago when I walked into my first NAWBO event, I never quite expected the support I would find and how the women of this organization would transform my own legal business. I certainty didn't expect that someday I would be blessed with the opportunity to lead this organization. And now it's my turn to give back to the organization that has given so graciously to me. I hope that I can lead with the same grace and courage as those who came before me have (there are big shoes to fill from our past leaders – Betty Collins, Tonya Tiggett, Catherine Lang-Cline, and more). To each of you – thank you for trusting me as your leader.
And to all of those business owners out there: rely on us as your support. Let us hold you up during these challenging times. Trust us to provide you with resources that you need to come out of this strong. And especially now: don't forget your dreams. Take it from my little 9-year-old girl: sometimes all it takes is a dream and a little grit, and the courage to take the first few steps.
In support and gratitude,
Michelle Casper
NAWBO Columbus President