The Columbus Chamber is excited to have been selected as one of only three local chambers across the country to co-host an Inclusion Incorporated forum with the U.S. Chamber of Commerce and Gill Foundations.
Inclusion Incorporated is a first-of-its-kind research and education initiative established to demonstrate the corporate and community value of LGBT-inclusive workplaces. The initiative will go beyond existing research to identify the characteristics of companies that incorporate LGBT inclusive policies, the facets of corporate culture that help companies benefit from these policies, and the importance of businesses engaging in external efforts that support LGBT inclusion.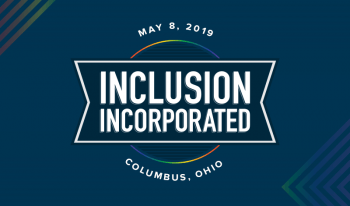 The free event is scheduled for May 8 from 8:30am -1:30pm at the Grange Insurance Audubon Center. The agenda is in the process of being finalized and registration is open. Our goal attendance is 150.
I invite you to become a promotional partner of the event by sharing event information with your members and encouraging them to attend. In return, your logo will be featured as part of the program. Please find attached Communications Toolkit with emailing marketing and social media content. Please reply to me with your logo if you agree.
The Columbus Chamber was selected because of the leading role our region's business community has played in advocating for statewide non-discrimination protections for LGBT individuals, known as the Ohio Fairness Act, which has been reintroduced in this General Assembly as S.B. 11. In addition to supporting this event, we hope you will consider joining us in supporting this important legislation.