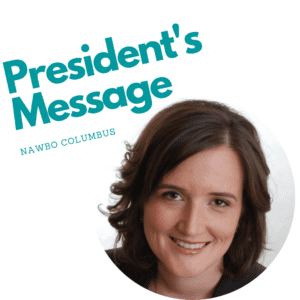 NAWBO Columbus Sisters,
The mission of NAWBO Columbus is to empower all women business owners to overcome challenges, fully realize their true potential and make their mark on the world!
We do this work through three mission pillars:
Advocacy – influencing opinion-makers and changing public policy to level the playing field and create a more inclusive economy;
Community – fostering a supportive environment of role models and partners, creating lasting relationships that breed courage and inspire confidence; and
Transformation – providing insights and resources necessary to learn as individuals, grow our businesses and transform the economic, political and social systems holding us back.
It is my honor to serve as your Chapter President this year as we continue to advance this mission and strive to be a supportive and inclusive community.
Some members have reached out regarding a recent letter from NAWBO National that shared they are forming a special task force to examine some sensitive matters in another state's chapter surrounding diversity, equity, and inclusion (DE&I) issues within their chapter. Our Board is following these activities and providing guidance when we can.  NAWBO Columbus is deeply committed to our own DE&I efforts.
We know from the 2020 NAWBO Columbus membership survey, a large majority of respondents acknowledged the DE&I efforts of NAWBO Columbus are reflected in our values and are seen in the fabric of our diverse community.
We also learned that many organizations and businesses do not yet have DE&I policies and/or training in place.  In 2020, NAWBO Columbus responded immediately by launching a two-year Strategic DE&I.  NAWBO National's board applauded our chapter's initiative in developing a comprehensive plan for implementing DE&I practices and training to support our chapter leaders and members.
To kick off this effort, in 2020 we collaborated with CityWide Training and began DE&I training for our Board of Directors and Committee Vice-Presidents.  To date, we have completed nearly 10 hours of unconscious bias training, unlearning privilege, and using best practices for inclusion in the workplace educational sessions.  In 2021, we have provided several diversity and inclusion-specific workshops for nearly 50 participants, including members, major sponsors, and Business Champions.
NAWBO Columbus is one of the largest chapters in the nation, and we strive to meet the needs of our members at whatever point on their entrepreneurial journey they find themselves. To learn more about these efforts and the other great work planned for NAWBO Columbus, please join us at our annual meeting on August 19th.
With Excitement,
Sheri Chaney Jones
NAWBO Columbus President