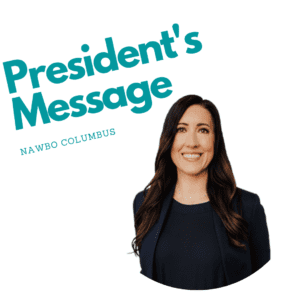 On Tuesday, May 11th, NAWBO Columbus hosted one of our signature events: Women, Wisdom & Wine. It is a chance for members (new and old) and guests to learn more about NAWBO, mingle with their fellow women business owners and leave inspired and lifted up. It was also the first time I have had an opportunity to address our membership as your President in person.
What a gift that was!
I have deeply missed seeing all of you in person, and while we have adapted through the use of technology and Zoom, nothing quite replicates the connection you can make when you have a conversation with someone face to face. My wish when I assumed the President's role last July was that at some point in my tenure, we would return to in-person events. I am grateful for my Board – especially our Membership Vice President, Pia Fitzgerald, for giving us that opportunity to gather in person last night.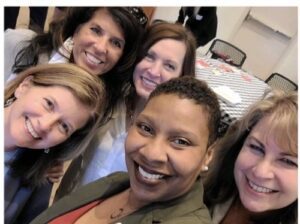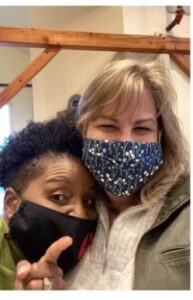 Click HERE for more photos and video of WWW!
I am also incredibly humbled and proud of the respect of all attendees. We gathered at The Amelita Mirolo Barn in Upper Arlington – a wide, open space with a courtyard and plenty of room for guests to safely mingle. We enjoyed wine from One Hope (a fantastic company that gives back to non-profits), dinner from the Pitabilities food truck and sweet treats from Donna's Delicious Dozen Donuts (another woman-owned local business). We wore our masks when mingling, and if you're like me – you can see it someone's eyes when they are smiling underneath their mask. There was no shortage of smiles last night.
I left the event feeling inspired, energized and proud of my NAWBO family. I was encouraged by so many of you who came up to me to thank me for this event and to tell me stories of who you met, how you connected and how this opportunity will result in professional growth for you and your business. That's what NAWBO is all about: we are for growth. We are for development. We are a community of business owners who will push you out of your boundaries and help you become a better version of who you were yesterday. NAWBO gives you the tools you need to reach in business and the support of so many women who will help you climb. I have found my circle with the women who call NAWBO home, and I hope you have too.
To our new members: thank you for joining us. I know this past year has been one for the history books and it's tough to get involved in an organization when so many of the meetings and events are virtual. The networking and connections you gain through NAWBO are truly what sets us apart, and we are working hard behind the scenes to bring you more in-person events. We are also respectful of those who are not yet ready to gather in a group, and our goal with future programming is to offer hybrid events where you can attend in person or virtually. Speaking of that, do you know of a great space in Columbus that can easily host hybrid events? Tell us! We are vetting local spaces and would love your recommendations. You can email me at mcasper@salawus.com or give me a call at 380-205-6210. I'd love to hear from you.
To our Business Champions – especially KeyBank and Wellness Collective who were our event sponsors  – thank you for supporting NAWBO and championing women business owners. You are the glue that holds our organization together, and we are grateful for your support that enables us to bring events like Women, Wisdom & Wine to our members.
Thank you all those who attended and to our Board, Development Director Yvonne Cherell and our Chapter Manager Arien Lawless, for making this event such a huge success. We can't wait to see you again soon!
Gratefully,
Michelle Casper
NAWBO Columbus President