ACS ResearcHERS Launch Revolutionary Initiative called ResearcHERS: Women Funding Women in Cancer Research- Launch event 4.17
April 4, 2019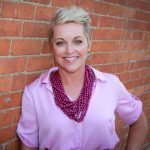 DO YOU LOVE YOUR BUSINESS, LIKE DARLENE LOVES MAPS?
April 8, 2019
After successfully planning and executing 25,000 weddings, galas, ceremonies and celebrations from ten to 3,000 guests, and growing from a staff of two to 150, Two Caterers has undergone an extensive re-branding process to better position it for growth. Effective today, it will be known as Together & Company.

"When I co-founded our company 22 years ago, it consisted of two people, hence the name Two Caterers. However, over the years, the company has evolved to much more than our name suggested," said Angela Petro, Together & Company CEO.

It was during a two-day, strategy retreat implementing The EOS Process™* in Fall 2016 when Petro and her leadership team decided to address the hard questions often asked about its name such as, "Are you one of the two caterers?" and "Are you big enough, experienced enough, to handle our event if there are only two of you?"

"At the end of the weekend we were able to describe ourselves as a family of experts with more than two decades of experience crafting memorable events and delicious food, treating every person we serve as a close friend," said Petro.

Following the strategy retreat, it was clear that the company's name and brand did not articulate their expertise. Petro enlisted the expertise of Mynte Design Co. to begin the re-branding process.

"When we implemented EOS, we defined our vision for the future: Stay Fresh. Be Relevant. Honor our Roots.  Our decision to rebrand and change our name would help us start working toward that vision while honoring our long-standing values and culture."
It was months into the re-branding process when the name "Together & Company" came to Petro and it immediately felt right.

"Gathering people together and delivering genuine hospitality with creative and flavorful food, has always been at the heart of what we do," said Petro. "Together & Company is 150 team members strong and hosts 3,000 events annually – We handle the details so that our clients and their guests can enjoy each moment and each other's company. Our name and brand are now authentic to who we are and what we can do. Being genuine and properly reflecting our expertise and values will ensure we are focused on our vision for growth, and attract the best people to work with us."

In addition to informing its long list of clients of its name change, there are 200+ items that will be altered to include Together & Company's name and logo from uniforms, menus and collateral pieces to the web site and social media handles.
Together & Company:
Since 1997 Together & Company has provided its "Wholehearted Approach" to food, service and experience to thousands of guests throughout Central Ohio. Events large and small are personalized by passionate team members who deliver an unprecedented experience. Together & Company operates High Line Car House in the Brewery District and The Fives at The Reach at Goodale (expected opening Spring 2020). Additional information is available at www.togetherandco.com.
Timeline of Together & Company. Growth:
1997: Angela Petro opens Two Caterers
2006: Two Caterers purchases Finest Hour Catering
2009: Two Caterers acquires Simply Nanette Catering
2012: Sweet Carrot Food Truck is introduced as an extension of Two Caterers
2014: Two Caterers moves into the High Line Car House and begins producing high-end, on-site events
2015: The first Sweet Carrot restaurant opens in Grandview followed by Polaris and Dublin locations
2017: Two Caterers celebrates 20th Anniversary
2018: Announcement is made that Two Caterers will open The Fives at Goodale in 2020
2019:    Two Caterers changes its name and rebrands as Together & Company
*EOS®, the Entrepreneurial Operating System, is a complete set of simple concepts and practical tools that helps entrepreneurs get what they want from their businesses. By mastering this simple way of operating, leadership teams of growth-oriented companies systematically and permanently improve