Pictured left to right… Rachel Winder, NAWBO Public Policy Advisor, Jeanne Gokcen, Sheri Chaney Jones, Shaune Skinner, Governor Mike DeWine, Merry Korn, Catherine Lang-Cline, K. Zulene Adams, Betty Collins, NAWBO Columbus President-Elect, and Christy Farnbauch, NAWBO Executive Director.
PUBLIC POLICY UPDATE!!
On Wednesday, June 12th NAWBO Columbus Public Policy Committee and members met with Governor Mike DeWine to discuss Ohio's new Women's Business Enterprise (WBE) Certification and the importance of creating equity and access for women business owners across Ohio. Strategic investments will help Ohio's women-owned businesses generate an additional $104 billion in revenues and create more than 1.4 million jobs.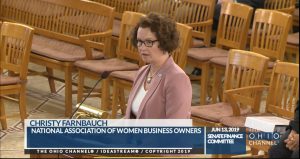 On the following day, Thursday, June 13th, NAWBO Columbus Executive Director, Christy Farnbauch joined the Public Policy committee again at the Ohio Senate Committee proceedings to give a powerful testimony on behalf of Women Business Owners in the State of Ohio and the work being done at NAWBO Columbus for them! View full testimony here.