"Most people overestimate what they can accomplish in one year and underestimate what they can accomplish in ten years." ― Bill Gates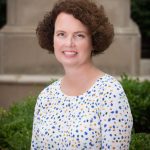 As I reflect on this quote, I think it's true for me. I love big, bold ideas and on occasion get very ambitious in what can be accomplished in a short amount of time. As we prepare to close 2019 and launch into 2020, I'm proud of how much NAWBO Columbus has accomplished in the last decade and year. As women we tend to diminish our moments of success, rarely pausing for celebration. I know we could fill pages of our accomplishments from the past 10 years. What follows is the "highlight reel." For a minute, I hope you'll celebrate with us.
In the last decade, under the leadership of strong volunteer servant leaders, NAWBO Columbus has:
Been recognized as a National #1 by the Columbus Foundation.
Doubled membership from all industry sectors and all sizes of businesses.
Hired professional staff, including the first full-time Executive Director.
Hired a part-time public policy advisor to track legislation affecting women business owners.
Championed a Microbusiness Initiative with the Ohio Legislature to formally recognize businesses with 20 employees or less.
Hosted the NAWBO National Women's Business Conference for more than 700 attendees.
Secured professional office and meeting space.
Recognized 14 Visionary women business owners in central Ohio.
Co-produced a one-day Women's Leadership Conference for two years.
Doubled support from corporate partners.
In 2019, we…
Facilitated the passage of HB494 to create the first-ever Women's Business Enterprise (WBE) Certification for Ohio and assisted in the writing of the rules for the program.
Secured grant funding for the first time from the Columbus Foundation and the Women's Fund of Central Ohio.
Worked with Storyforge to clarify our vision, beliefs, purpose and create a comprehensive three-year strategic plan.
Launched an individual giving campaign for the NAWBO Columbus Foundation to support research and educational opportunities focused on all women business owners.
Hosted a workshop, in partnership with the Small Business Administration, to explain ways to leverage certifications.
We enter the new year and a new decade laser-focused on empowering all women business owners to overcome challenges, realize their full potential and make their mark on the world. We know, and research proves, that women-owned companies are critical economic drivers for an inclusive economy and an undeniable asset, providing value and stability for families, communities and Ohio's economy.  To succeed as business owners, women need a seat at the table, a level playing field, and support from our policymakers.
We envision a more inclusive economy, where gender does not determine success, opportunity and outcome. Where being a woman is not a barrier to business opportunity nor an obstacle to be overcome on the road to entrepreneurship.
In 2020 we will:
Empower all women business owners to overcome challenges, realize their full potential and make their mark on the world through advocacy, community and transformation.
Work with the State of Ohio to finalize the rules and launch of the WBE Certification for the state.
Advocate statewide and locally to change legislation and systems that hold women business owners back.
Launch a pilot phase of the Women's Entrepreneurship Venture Studio to determine the role entrepreneurship plays in closing the gender wealth gap. Because we believe, and research demonstrates, that owning a business is one of the most effective ways for women to secure an independent financial future for themselves and their families, while creating opportunities in their communities and contributing to our country's economic growth.
Design and launch a new event to celebrate women business owners and honor Visionary leaders.
Work with the City of Columbus to ensure that women entrepreneurs are part of local efforts to build an entrepreneurship-based ecosystem for economic development.
In short, NAWBO Columbus will continue to foster an open, supportive environment for women business owners to find solutions to their most persistent challenges – a sisterhood of growth-minded women. We'll continue supporting women like Yasmine Robles of Robles Designs who says, "NAWBO has been incredibly helpful for growing my business, networking, and to get out and have some fun."
NAWBO Columbus thanks you for your past and future support and looks forward to working with you to continue identifying and reducing the barriers that exist for entrepreneurs, especially those that are unique to women-owned business.
I can't wait to see what we will accomplish in the next decade. Join us!
Happy New Year!