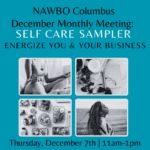 December Monthly Meeting: Self Care Sampler – Dec. 7, 2023
November 16, 2023
NAWBO Columbus Strategic Plan- Request for Proposal
November 21, 2023
NAWBO HQ (NAWBO.org) has recently updated their membership management system through GrowthZone.
All members need to create or activate their new growth zone account. If you have not created or activated your account look for an email from delivery@nawbo.org with a link to do so. Please note links expired after 72 hours.
Once activated you will be able to review your membership status, populate your latest profile information and customize your experience.
Monthly Members, please enter your payment information for auto-billing; simply click on "My Billing Info", then "AutoPay & Billing", then "Manage AutoPay" to get started. Be sure to save your payment information!
For membership renewal assistance reach out to Melanie Dunlap, NAWBO HQ Membership Coordinator at mdunlap@nawbo.org.
Make sure to add delivery@nawbo.org to your safe sender list to receive emails from NAWBO HQl.
Thank you for your patience!