On September 18, 2020, I felt my breath catch in my throat when the news alert came across my phone: Supreme Court Justice Ruth Bader Ginsburg had died. She was 87 years old and in her 27th year on the Highest Court. A small part of me thought this legal giant would never stop fighting for women's rights. When she began her life in the law at Harvard, she was one of 8 women (and 492 men) in her law school class. At a cocktail party, the Harvard Dean famously asked her and the other women why they felt it ok to take the place of a qualified male. Years later, after assuming her place as only the second woman in history on the Supreme Court, a reporter asked her: "when will there be enough women on the Supreme Court?"
When there are nine. People are shocked.
But there'd been nine men, and nobody's ever raised a question about that.
For over 60 years, Justice Ginsburg worked to build up women's rights brick by brick. In one early Supreme Court case in 1971, she argued that the Constitution should prohibit discrimination based on gender. It is astounding that before that year, gender discrimination was not something prohibited by the laws of our country. In her tenure as a tireless advocate for women's rights, she pioneered protections that impact all of us as women business owners: the right to hold a job as a woman; the right to not fear the loss of that job if we decide to have a child; the right to sign our own names to bank accounts and secure loans without our fathers or husbands' approval; the right to equal pay. She changed the way the world is for American women. In her quest to do so, I find it particularly poignant that she did so slowly, over time, with small, tiny steps forward. When we look back at her career, we see the full magnitude of all she was able to accomplish.
So, too is it with all that we do in our businesses. Greatness does not happen overnight. Success is built when we take a series of small, calculated steps forward, and we keep taking those steps forward until one day when we look back and see we have paved an entirely new road, and we've climbed a mountain.
NAWBO is like that as well, and perhaps no more indicative of why small steps are so powerful is in our public policy work. Over 3 years ago, our public policy committee began tirelessly working to establish the first Women's Business Enterprise Certification in the state of Ohio. On October 8th, we will recognize that work and celebrate the passage of the WBE Certification into Ohio law. The WBE Certification allows your business to be more visible in Ohio and opens the doors wider to contracts from government entities and large business. I hope you will join us, along with Secretary of State Frank LaRose, in celebrating this great achievement. You can register for the free celebration HERE.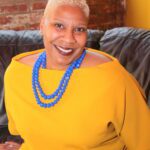 We continue to take small steps forward, realizing the great impact they have on our future. Most recently, we hired Yvonne Cherell as our Development Director. Yvonne brings over 25 years of non-profit experience to our Chapter in key areas of fundraising, public policy and advocacy. What I'm most excited about though is her passion. She is a tireless advocate for women's rights and equality, and she brings a spark to NAWBO that will help us ignite a more vibrant future. I invite you to watch her video message to all of NAWBO: our members, our Business Champions and our supporters HERE.
To all of you who bring your passion and energy to NAWBO: thank you. Thank you for being along with us on this journey of small steps forward – small steps towards greatness.
With gratitude,
Michelle Casper 
NAWBO Columbus President
Join us for our upcoming programs. Click HERE to view the NAWBO Cbus Calendar of Events.
[/vc_column_text][/vc_column][/vc_row]