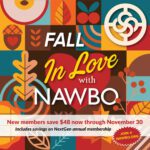 Fall Membership Drive- Join Now & Save!
October 9, 2023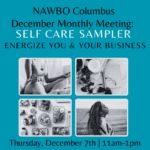 December Monthly Meeting: Self Care Sampler – Dec. 7, 2023
November 16, 2023
Congratulations to the 2023 NAWBO Columbus Business Champion Award winner Monica L. Womack, MPA, Chief for the Minority Business Development Division at the Ohio Department of Development.

Each year NAWBO Columbus recognizes one outstanding person who advocates for the growth and success of women business owners. Honorees must support legislative/regulatory efforts, work to increase business and financial opportunities, improve the business climate and be an advocate for women business owners. Overall, honorees help enable women business owners to achieve their potential.
In her role, Ms. Womack provides vision and leadership to support the growth and sustainability of minority, women, and disadvantaged businesses in the state of Ohio. In doing so, she engages with strategic partners at all levels of government, develops private-sector partnerships, and listens to the needs of business owners.
She is a champion of women business owners and in the words of one of our members "She has streamlined a process for women to get low interest loans and accelerated the woman owned certification process light years ahead of where it had been."
We are honored to recognize Ms. Womack as an advocate and champion of Women Business Owners.