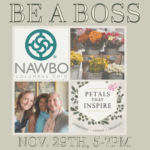 Be A Boss @ Flourish Studio- Nov. 29th
October 9, 2023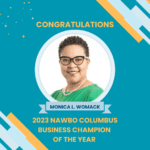 2023 Business Champion- Monica L. Womack, MPA
October 11, 2023

Join NAWBO Columbus and save $48 during the Fall Membership Drive!
The purpose of NAWBO Columbus is to equip and empower women business owners to overcome challenges and fully realize their true potential, making their mark on the world!
NAWBO Columbus empowers women business owners through: 
Advocacy-influencing public policy
Community–creating lasting relationships that breed courage and inspire confidence.
Transformation-providing insights and resources necessary to grow both businesses and individuals.
Join Us! NAWBO membership is:
For long-term relationships, support from women with whom you can share your success and trials!
Women business owners who are looking for places and opportunities to affect positive change in the business culture!
An opportunity for increased visibility within your local community and opportunities for national connections!
A place to draw from the energy and excitement of a community of entrepreneurs!
Join now to receive these benefits during the membership drive!
New members who join NAWBO now through November 30th receive $48 off new member initiation fee. This discount is automatically applied at checkout.
$25 reinstatement fee waived for any lapsed NAWBO members who rejoin.
For more information on membership- NAWBO Membership Brochure
Click HERE for Membership Benefits
To Join go to: https://www.nawbo.org/membership
For questions on membership connect with: