My name is Donna Musilli. I am currently working with the National Board and the NAWBO National support team to develop a "strengths-based" culture.

Tell us about your business.
I have two businesses.
I am a Stylist and Team leader with cabi, where I have built an extensive following of private clients and coach a team of over 90 members in 15 states. I am responsible for driving 10% growth per year and generating revenue more than $6.8M annually.
In 2017 I started a Strengths Communicator Coaching Business called ADMA Consulting. I am a John Maxwell certified speaker, trainer and coach and am affiliated with Leadership Vision Consulting. My passion is to help individuals and teams understand their unique 'voices' and to help build high-functioning people, teams and cultures!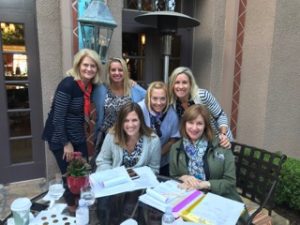 What inspired you to get into your business?
I have a BFA from Kent State University in Fashion Design and spent 17 years in sales, management and training in the pharmaceutical industry.  Coming 'home' to Fashion and Personal Growth & Development is where I was 'meant to be' for the rest of my career!
What are your three best practices or best tips that every NAWBO member needs to hear?
Know your talents & strengths and how to articulate them to those you work with. Don't ignore your 'weaknesses'- have an awareness and strategy to mitigate and collaborate.
When you look and feel great, you can conquer anything! (Fashion is an illusion- a Wardrobe strategist can help you highlight your fashion 'strengths' and mitigate you fashion 'weaknesses,' too!)
Play "Words with Friends" – It's very relaxing!
What is the book (or books) you've given most as a gift, and why? Or what are books that have greatly influenced your life?
Mindset by Carol Dweck
15 Commitments of Conscious Leadership by Dethmer, Champman and Klemp
What does your future look like?
BRIGHT: get some sunglasses- maybe even Eclipse shades!
What do you do in your free time?
Read, relax, walk, connect with friends/play Words with Friends, enjoy our newly renovated new house, and love my college-age kids. I also love to drive around with my husband of 24 years, in our historic bright yellow Alfa Romeo convertible looking for new ice cream spots
What is your company website?
www.donnamusilli.cabionline.com I am affiliated with www.leadershipvisionconsulting.com – while I work out my ADMA Consulting branding