Wine and Websites: Legal Do's and Don'ts For Your Site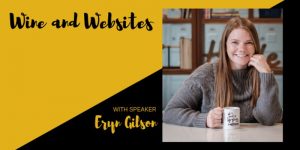 During this month's Wine + Websites, Eryn Gilson will be your guide to a legally covered site. We will be discussing legal Do's and Don'ts and answering any questions you may have realted to how to get your site covered legally.
Eryn Gilson is a social media strategist and online presence educator. She helps her clients create social media strategies that turn social media followers into raving fans and lifelong customers. Eryn has experience both educating and executing social media, blogging, and email campaigns. She enjoys working with clients to create strategic, customer-focus action plans that deliver results. Eryn is also the voice behind 614 Mom, a blog dedicated to supporting the Columbus community through thoughtful and intentional content. Your online presence is sometimes the first impression for many of your customers and, with Eryn's help, you can crush that first impression.
Keyholder 2019
What is Keyholder?
Keyholder brings together women, men, and people of all ages and backgrounds. It's a night to celebrate our shared efforts to create gender equity. And, it's a night to commit to tackling challenges that still lie ahead, together. We fill the Ohio Theatre with 2,500 of us ready to learn more, connect more, and do more.
Who we are as individuals, our perspectives, our daily work, our social groups, and our lived experiences empower us to make change happen. Keyholder 2019 is all about connecting our experiences to our purpose and understanding how to start—in our own way—creating social change. On May 22, Aly Raisman, Brittany Packnett, and Piper Perabo will take the Keyholder stage to share where they started. They'll inspire us to unlock our own place in the movement and to move boldly with our power for the sake of women and girls.
Speakers
Aly Raisman: Aly Raisman is the second most decorated American gymnast of all-time with six total Olympic medals and the most decorated U.S. gymnast at the 2012 Games. An athlete, survivor, and activist, Aly uses her platform to promote positive body image and advocate for systematic changes within the sport of gymnastics to help to eradicate sexual abuse in youth sports. In her New York Times best- selling memoir, Fierce, she shares the highs and lows of her journey.
Follow Aly @Aly_Raisman on Twitter, Instagram, and Facebook.
Brittany Packnett: Brittany Packnett is an award-winning national leader in social justice. Cited by President Barack Obama as a leader who's "voice is going to be making a difference for years to come," Brittany is an unapologetic educator, organizer, writer, and speaker. Named one of TIME Magazine's 12 New Faces of Black Leadership, she is a former teacher, policy expert, and non-profit executive director, who has committed her life and career to justice.
Follow Brittany @MsPackyetti on Twitter, Instagram, and Facebook.
Piper Perabo: Piper Perabo, a Golden Globe nominee, is one of the most talented and versatile actresses working today. With notable roles, including Coyote Ugly, Covert Affairs, Notorious, Reasons to be Pretty, and Lost Girls, among many others. Outside of her work on screen and stage, Piper is an activist, advocating for the stories of refugees, political oppression around the globe, LGBT rights, indigenous women's rights, and women's political leadership.
Follow Piper @PiperPerabo on Twitter, Instagram, and Facebook.
For more information visit www.womensfundcentralohio.org/keyholder
Free Business Builder Breakfast Series! Register today!
Join NAWBO member Karen Sullivan of Sullivan Solutions for the Business Builder Breakfast Series. The Business Builder Breakfast series is a new series designed specifically to help small business owners address opportunities to grow their businesses to the next level. Brought to you by the business growth catalysts at Sullivan Solutions and The State Bank. This Business Builder series includes 3 FREE workshop sessions.
Session one:   Weds. April 24th, 2019 at 7:30 AM
Session Title: The Art of the Stay w/ NAWBO member and CEO of GO-HR.
Session Description: Finding and keeping the right people is crucial for scaling any business and may very well be the single most pervasive concern for any business at every stage. What insights can you use to successfully navigate the current market?
Session two:   Weds. May 22nd, 2019 at 7:30 AM
Session Title: Marketing: What You Need to Succeed with Ross Youngs and NAWBO member and Co-Founder of Portfolio Creative Catherine Lang-Cline
Session Description: The marketing struggle is real. There are so many options and so many expensive pitfalls. Our panel has seen it all. We'll have a candid discussion about what works and what doesn't when marketing isn't your full-time job. Bring your questions. No subject is off the table.
Session three:   Weds. June 26th, 2019 at 7:30 AM
Session Title: Leveraging Accounting to Scale with Hilary Dodson and Tracey Holecek from our Corporate Partners at Kaiser Consulting.
Session Description: Learn how to understand the health of your business and the potential strategies to foster your growth. With both local and global clients, Kaiser Consulting drives value through a solid audit and analysis process.

Learn more about these FREE sessions and register here!
NAWBO Member Katy Tombaugh Celebrating 1 Year Anniversary of The Nest Coworking
Come out and celebrate ONE YEAR in business with NAWBO member and VP of Membership Katy Tombaugh and The Nest Coworking.
When: Friday, June 14th, 2019
Time: 4pm-7pm
NAWBO Member Kathleen Lach Makes the Forbes List!
Kathleen Lach, who has been a wealth advisor since 1999, believes serving her clients goes beyond the value of a portfolio. With comprehensive advice tailored to an investor's particular needs, Kathleen and her team help clients and their families navigate volatile markets and evolving circumstances with educated decisions based on sound investment principles. Whether spotlighting hidden opportunities or anticipating important transitions, Kathleen strikes the effective balance between short-term needs and long-term financial goals. Her deep multi-generational relationships facilitate her partnering with clients at each stage of investing: accumulation, growth and protection strategies, and the transition of wealth either to the next generation or through thoughtful philanthropy. Active in her community, Kathleen also provides investment advice to a number of non-profit organizations.
Read the full articles here.
NAWBO Member & CEO of Urban Trendsetters  Sharon Gordon is celebrating 16 years of putting your business in the street
! 
Since 2003 they have published over 450 newspapers and publications and been the media sponsor 100's of events.
The UTS TrendE-Blast first launched as a service to our clients in December 2005. In that time we have sent over sent over 10,000 email blasts while creating our tribe, the UTS Nation.
We are the first and most consistent urban based e-blast service in Central Ohio and have the largest minority and diverse data base in the STATE OF OHIO.
Read latest issue here.
Kristen Moosmiller Named to the NAPFA National Board
We are pleased to announce that Kristen Moosmiller was recently named to the national board of the National Association of Personal Financial Advisors (NAPFA). She will begin serving a three-year term in September 2019.
NAPFA National shared the following with their 3,000+ members this week regarding Kristen and her fellow incoming board member:
Kristen and Jeff are both successful financial planners with just the right mix of experience, professionalism, vision and service-orientation to help move the association forward. They are committed to NAPFA's mission, and to increasing member engagement and fulfillment. This year gave the Leadership Development Committee a great group of candidates from which to choose. Our decision was an extraordinarily difficult one, and we thank all of the candidates for the time and effort they put forth during the selection process. Congratulations Kristen and Jeff. Well done!
The National Association of Personal Financial Advisors (NAPFA) is the country's leading professional association of Fee-Only financial advisors—highly trained professionals who are committed to working in the best interests of those they serve. The association provides support and education for over 3000 practitioners all over the country and is governed by the NAPFA Board of Directors and supported by our four Region Boards.
NAPFA members live by three important values:
– To be the beacon for independent, objective financial advice for individuals and families.
– To be the champion of financial services delivered in the public interest.
– To be the standard bearer for the emerging profession of financial planning.
Best wishes to Kristen in her important new role!

Former NBC4 Anchor and NAWBO Member Mikaela Hunt Builds Community via New Channels
For eight years Mikaela Hunt woke up with Columbus news viewers as one of four co-anchors on NBC4 Today. During those years, Hunt built a relationship with viewers as a part of their daily morning routines — almost as if they knew her. But after 17 years in TV journalism, an unexpected — and at one point devastating — change came her way.
In 2015, when NBC4 chose not to renew Hunt's contract, local news viewers were seemingly devastated. There were a lot of questions about why she was no longer on the show, where she went, and exactly what happened. Years later, from time to time, Hunt will get a message on Facebook from someone saying, "I'm so glad I found you!" or "I didn't know where you went. What happened?" Others told Hunt they called the station, left voicemails, and were even given the news director's phone number, but never got a callback.
Read full  article here.