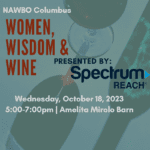 Women, Wisdom & Wine- Oct. 18, 2023
August 16, 2023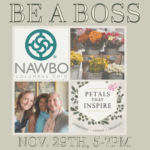 Be A Boss @ Flourish Studio- Nov. 29th
October 9, 2023
Fri, November 17, 2023 | 8:30 AM – 9:30 AM | Zoom
Connect with NAWBO Columbus & Boost your Business!
NAWBO members and partners join us for an opportunity to connect virtually and boost your business at our monthly NAWBO Boost events.
Each month a NAWBO member or partner will facilitate and share an area of expertise. Attendees will have the opportunity to introduce themselves learn from our facilitator and bring business challenges to the group. Similar to the NAWBO National Empower Hour. This open-forum mastermind allows for a small-group setting, connection, discussion and the opportunity to work ON your business. Join whenever you are able.
Non-members may attend up to two times before deciding if NAWBO is the right community for you.
Once registered the Zoom link will be sent in a registration confirmation email.
Nov. Boost: Facilitating Productive Virtual Meetings
Nov. Boost Takeaways
Key differences between in-person and online meetings
Tips for creating more engagement during virtual meetings
Leveraging today's technology
Peer-to-peer experience-sharing
Kim Troy is the Founder and CEO of Civilis Consulting. Civilis works with CEOs, board members, entrepreneurs and leadership teams to strategize and implement organization-wide transformations. As embedded members of their clients' leadership teams, Kim and her team of battle-tested consultants serve as fractional COOs and EOS® Integrators to help companies – and their visionaries – with:
Translating strategic vision and directives into elegant and executable plans of action
Leadership development and training, including DEI&B programs and workshops
Strategic talent acquisition and retention
Culture-building and differentiation
Organizational change and transformation
Exit and succession planning
M&A pre- and post-integration
Prior to founding Civilis, Kim held executive level positions in Human Resources, Operations, and Sales for some of the world's largest corporations, and has worked extensively with wildlife conservation NGOs, in the field in southern Africa, to design and execute strategies for maximizing financial and human resources.
A voracious learner, Kim has a BA in Psychology and Business Administration from the University of Puget Sound and a Diversity & Inclusion certification from Cornell. She is a Prosci® certified Change Management Practitioner, DDI® Targeted Selection trainer, certified Tilt™ coach, and EOS® Integrator Masterclass graduate.
Learn more about Kim on LinkedIn at https://www.linkedin.com/in/kimtroy/
Learn more about Civilis Consulting at https://www.civilisconsulting.com/